Does Your Nonprofit Need a New Donor Retention Strategy?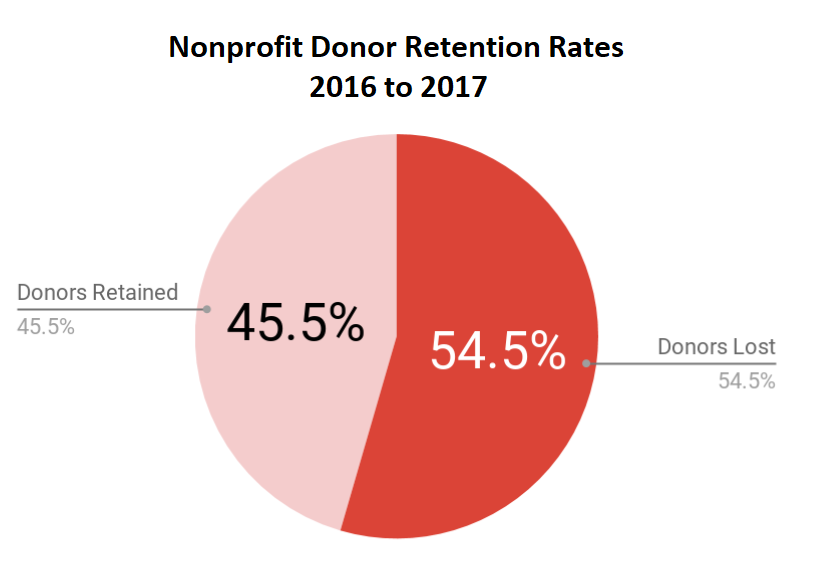 It costs nonprofits more capital to gain new donors than it does to retain them. Donor retention was 45.5% at the end of 2017, which is not an inspiring number. So, what motivates a new donor to become a repeat donor? What are the reasons that one-time donors site for not giving on a schedule?
The Fundraising Effectiveness Project (FEP), an organization that provides nonprofits with tools and data-driven fundraising information about how people are (or aren't) donating to charity, refers to the "enormous untapped potential for giving in the United States". Their goal is to help nonprofits tap into this potential and help fund deserving causes and persons.
Why (and How Much) Should My Organization Be Focused on Donor Retention?
One major reason is financial – it costs less to motivate an existing donor to donate again, versus attracting new donors. In addition, you already know that they believe in your cause and most likely still have the means to donate, since they have before. There is also a correlation between the length of time someone has been a repeat donor and the amount that they donate – and surprise, it's higher. Even small increases in donor retention can have large financial impact over time.
When an organization is looking to attract new donors, there isn't always a focus on developing strategies that will acquire donors that have a high potential to become recurring donors – but there should be! With a little foresight, nurturing that burgeoning relationship with intent could have major returns in the future. As personal wealth or business profits grow, so can the contribution to your cause.
In order to begin a deliberate shift towards increasing donor retention, some questions to ask are:
Does your organization know the % of donations coming in from repeat versus one-time donors?
Does your organization know the ROI for each?
What is your organization's donor retention rate?
Knowing the answers to these questions can give your organization an idea if it's using its resources in a way that is maximizing ROI.

What Causes Repeat Donors to Stop Giving?
Using the Adrian Sargeant article Managing donor defection: Why should donors stop giving? as a source, the major reasons for decreases in donor retention is that the donor doesn't feel valued. There are a multitude of reasons why this might happen, but here are a few standouts:
Poor communication to donor

Poor response time to inquiries
Impersonal newsletters, emails or other fundraising communications
Failure to thank donors or thank them appropriately
Failure to explain to donors how their monies were used
Donor's belief that other causes are more deserving
Donor doesn't remember donating
Perceived lack of appreciation

Impersonal thank you's for donations
Belief that their donation was not integral
Failure to give the donor a voice in the organization
Failure to acknowledge the financial sacrifice of the donor's support
Failure to acknowledge the support of the donor in a way that resonates
Note the "Donor doesn't remember donating" reason from above. According to Sargeant article, 9% of people cited this reason for ending their donations to nonprofits. Obviously communication to any donor that offers that reason is a bright red alert that your organization's communication to the donor is not effective.
The takeaway from this list is that more attention needs to be paid to how organizations need to communicate to their donors in order to make them feel valued. Different demographics within your donor base shouldn't be communicated to in the same way – they need to be engaged in a way that is personal to them and resonates with their ability to give. Nonprofits need to know the profile of each of their donors in order to increase the potentiality for increasing donor retention.
How to Inspire Repeat Donations
Taking inspiration from the "don'ts" list from above, the main ways to increase donor retention is to build meaningful relationships with their donors based on communication and appreciation. These suggestions are inspired by Adrian Sargaent's article, "Donor Retention: What Do We Know & What Can We Do About It?", by way if IssueLab.org's The Nonprofit Quarterly.
How Can I increase Donor Retention Rates?
Nurture a personal relationship with each donor based on their demographic.
Communicate to donors (emails, calls, etc.) based on their unique profiles.
Make every extra effort to make donors feel appreciated and valued.
Communicate to the donor how their donation is being used
Be knowledgeable of the history between you and each individual donor.
Thank donors within an appropriate time frame.
Communicate to each of your donors in a timely, respectful and knowledgeable way.
Communicate to donors how appreciated their donation is.
Treat donors as if they are making the real change, instead of just funding your agenda.
Know a donor's preferences and limitations – Don't ask for too much or too often.
Survey donors to know their preferences and if your nonprofit's strategy is yielding results.
The Takeaway on Donor Retention
If your nonprofit doesn't have a detailed strategy to address donor retention, you need to get one pronto. There has been a lot of burgeoning research on the importance – and profitability – of allocating more resources to donor retention. Whether nonprofits stick to business as usual or take the time to build new strategies may be the deciding factor as to which survive in an already tough landscape.