WHAT
PEOPLE
ARE
SAYING
Scroll & See

PPM is everywhere, all over the County! Whether you are planning a business event or attending one, you're liable to see Angel and the Puzzle Pieces crew. More importantly, though, is their commitment to the community. PPM helps to sponsor and participates in events and forums regarding education on new businesses, small businesses, and women and minorities in business. Marketing is their business but uplifting the community spirit is their heart.
Puzzle Pieces Marketing did an outstanding job developing Casa Cornelia's new website. They have a demonstrated commitment to their work and were sensitive, respectful, and responsive. We developed a clear process, with open communication from the beginning, and used a project management system that helped to track progress and requests. They also gave us tips on search engine optimization (SEO) to improve Casa Cornelia's presence online. We highly recommend Puzzle Pieces Marketing!
As the previous CEO of the Vista Chamber of Commerce, I worked with Angel Mason Broadus and Puzzle Pieces Marketing for over five years. She helped us promote our largest and most important event of the year that our annual budget relied heavily upon. Her professionalism in soliciting and coordinating TV appearances, social media promotion, and general marketing was excellent in all aspects. Her public relations work helped us massively expand the reach, attendance, and profitability of the event. I would highly recommend Puzzle Pieces Marketing for your PR needs.
Recently, our organization received funding specifically to launch a digital outreach program for one of our service divisions. While searching for qualified vendors I was introduced to Puzzle Pieces Marketing (PPM). To be honest, their own marketing caught my eye, I wanted to meet the team behind the motorcycle riding dalmatian. I thought if they could catch the eye of me, a non-techy individual, they should be able to design a webpage and digital marketing campaign that incorporates who we are and how we wish to be seen and catch the eye of potential new customers.

From day one, the interaction with Angel and Kristine was engaging and cooperative; PPM proved to be partners we wanted and needed in every sense of the word. They slowed danced us through our own learning curve of digital marketing and web design based on where we were as an organization and individuals. PPM made creative design suggestions that pushed us yet never lost sight of who we are a 125-year-old agency.

What started out as a business transaction, unfolded into a business partnership. We have expanded our website and digital footprint solely due to the work of PPM. Before PPM I was disappointed with our social media content. Since PPM I find myself seeking out their posts on our social media pages daily and sharing it with friends and family; this year we expanded and have turned over all of our websites (three) and all of our social media across our corporation to PPM.

If you are seeking a true partnership from a wildly talented group of individuals who think far enough outside the box for creative energy yet keep your image reflective of what makes you uniquely you. I strongly and without any reservation endorse the creative team at Puzzle Pieces Marketing.
Puzzle Pieces Marketing's work is superb! They helped our marketing department establish, implement and monitor social media accounts effectively. Their vision for service advertising enabled us to craft a strategic approach to our online community outreach. In addition, Puzzle Pieces Marketing's vast knowledge of HIPAA regulations assisted us in safeguarding our company against litigation as a result of social media portals. Over all, their work is precise, visionary and valuable. I could not recommend them more!
Working as the Central San Diego Black Chamber of Commerce, we commissioned Puzzle Pieces Marketing to revamp the website. It was a daunting task but Puzzle Pieces made it easy for us. They guided us through the process and made sure nothing was missed. When all was said and done, our website was more than what we had imagined it could be Thank you Puzzle Pieces! Debora & John Williams, Central San Diego Black Chamber of Commerce Board Member and VP of Technology.
Angel, the President of the company is a great person to work with. They were able to accomplish the work in a very short turn around. I would recommend any of you to utilize their services. They are also doing a brochure for the research center, as well.
Angel, Kristine, and everyone at Puzzle Pieces have been incredibly helpful and one of my best resources as a small business. Angel has helped me get a full understanding of what I need to do to increase my Social Media presence and ensure my web reputation stays strong! They are easy to get a hold of and are always there to answer quick questions!
I've worked alongside Puzzle Pieces Marketing for several events and campaigns from the Vista Strawberry Festival to an Annual Women in Business event title "Women Who Will". Angel and her team have been instrumental in gaining attention & attendees and they're always available for questions or brainstorming sessions. It's been nothing but a pleasure to work with Puzzle Pieces Marketing and I highly recommend them.
"Puzzle Pieces Marketing invested the time to understand our business and what was important to us."
– Gerald McFadden
President & CEO, Volunteers of America Southwest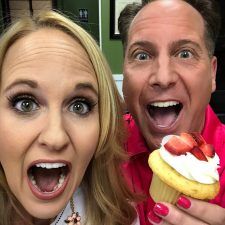 "Being the Events Coordinator for the Vista Chamber of Commerce, I have had the extreme pleasure to get to know Angel Mason Broadus and her team at Puzzle Pieces Marketing over my years here at the Chamber. It has been nothing but a pleasure to deal with each and every person from Puzzle Pieces. They make the Vista Strawberry Festival (the signature event for the City of Vista) be known to the masses in every way known. Engaging, fun, constructive – always there to offer a suggestion or new strategy. Hands down great people. I am truly proud to know them. They always brighten my day and I whole heartily recommend them for any of your public relations needs."
– Kent Leithold
Director of First Impressions – Vista Chamber of Commerce
"Puzzle Pieces Marketing went the extra mile in so many ways"
– Rachel Beld
CEO, Vista Chamber of Commerce
INTERNS
LOVE US!
Interning at Puzzle Pieces Marketing was a pivotal step in both my academic and career journey. Angel and Kristine both are excellent managers and role-models whose training and expertise perfectly complemented my educational achievements with vital, real-world work experience.

Interning with them gave me foundational exposure to WordPress, developing promotional copy, managing content calendars, and creating press releases. The skills I learned at Puzzle Pieces Marketing are now so crucial to my work as an SEO Specialist for a marketing agency and Operations Manager for a rapidly emerging Media Property.

I'm grateful every day for the chance that Angel and Kristine provided to me and considered my time with them as the springboard into my successful career in digital marketing.
My interning experience at Puzzle Pieces couldn't have been more positive! Angel and Kristine are extraordinary leaders and make an impact on the San Diego Community. During my time with them, I was able to learn valuable marketing skills and techniques that expanded upon what I was learning in the classroom. What made the experience so unique was Angel and Kristine's willingness to give us opportunities to work on current projects. They facilitated an environment filled with creativity, autonomy, and teamwork. I would strongly recommend this internship experience to anyone that has the opportunity.
I was an intern at Puzzle Pieces Marketing and it has made a huge impact on me as I think about my future career. They had a very welcoming office environment where I was excited to go to work each day. I learned so much from them and I am proud to say that I helped rebrand such a down-to-earth and giving company. I would love to work with them again.
Angel and Kristine are some of the most amazing and inspirational people I have ever met. I was their intern the spring of my senior year of college, and not only did they give me more opportunities than I could even dream of, but they supported and pushed me in everything I did. Puzzle Pieces Marketing has had a huge impact in my life, it has helped me to see exactly what I want in my career and I could not have asked for a better internship environment!
I have nothing but good things to say about the amazing team at Puzzle Pieces Marketing. From the first day of my internship, Angel took me under her wing and made marketing fun. If I ever had a question or did not know how to do something, she had no problem helping me out. I gained experience in a variety of different tasks ranging from blog posts to attending PR events. Angel wants all of her interns to succeed and she shows it every day.
This is what an internship should be like. The program is one that fosters education and growth in a truly hands-on way. Angel and Kristine offer the personalized guidance and investment in their interns that is so rare to find. And it shows in the welcoming, fun-filled environment that they create. From social media management to graphic design, I've done more and I've learned more about the broad range of strategic marketing and PR than I thought I could in this short amount of time. My work was always valued and has progressively improved with the help of the entire Puzzle Pieces team. I am so grateful for the opportunity I've had to learn, grow, and truly contribute to the team and my community.
Before starting my internship at Puzzle Pieces I was unsure about my future career path, but with the help of Angel and Kristine, I have become inspired to further my knowledge in marketing and PR. Starting from my first day I was welcomed and supported with each idea I had. I learned so much from each project I was able to work on and I will always be grateful for this extensive learning opportunity.
Interning at Puzzle Pieces has truly been one of the most rewarding experiences of my academic career! It was apparent from day one that the primary goal of the wonderful PPM team was to share their vast knowledge and experience in an effort to mold and shape the minds of their interns into powerful forces in the marketing community. They made sure this was a learning experience every minute we were there. I would absolutely recommend this internship for anybody who wants to learn any aspect of marketing. Thank you, Angel and Kristine, for this amazing opportunity and experience!
My experience at Puzzle Pieces Marketing was both insightful and a desired learning experience. I felt as if each day I came into work there was an opportunity to learn new and useful tools I can apply in the future. Puzzle Pieces is a company that strives for you to grow as an individual while creating an environment where you can be yourself.