Meet GoFundMe Charity – a Brand New Nonprofit Fundraising Platform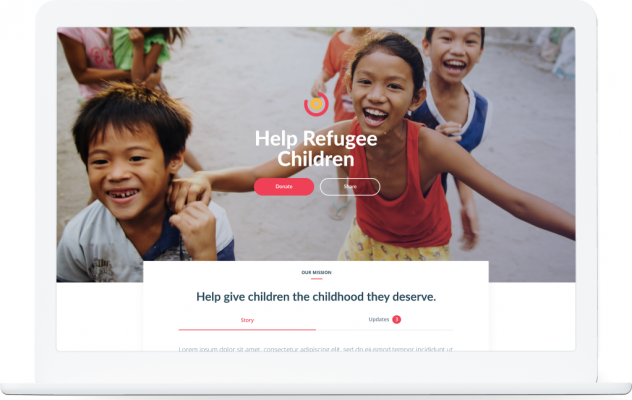 GoFundMe has become known as the largest social fundraising platform in the world since it's launch in 2010, collectively helping people raise billions of dollars for individual causes. In November, GoFundMe released its nonprofit fundraising platform to offer a product equally as impactful to nonprofits.
GoFundMe Charity is now offering enterprise fundraising software to nonprofits of all sizes with no subscription fees or contracts. The aim of this low price point is to help nonprofits raise money more efficiently while giving them access to fundraising tools that only large scale charities could previously afford.


How does GoFundMe Charity work?
As mentioned, GoFundMe Charity is one of the first nonprofit fundraising software platforms available to nonprofits without subscription fees, contracts, or add-on costs. This means that charities and nonprofits can focus on allocating funds toward their cause, rather than budgeting thousands of dollars for fundraising software each year. The good news is that US-based 501(c)(3) nonprofit organizations and Canadian nonprofits are allowed to use GoFundMe Charity.
How much does GoFundMe Charity cost?
The beauty of GoFundMe Charity is that the cost to use the software is minimal. Currently, two pricing models are offered: a free plan and a flex plan. Both options provide full access to GoFundMe Charity's fundraising software, with different pricing advantages depending on how your nonprofit chooses to accept donations. Here is a breakdown of the main differences between the two plans:

Free Plan: Donor Tipping Option
No subscription fees, platform fees, or price per user

Donors can leave optional tips that support GoFundMe Charity

Standard payment processing fee of 2.2%+$0.30 per donation
Flex Plan: Donor Covered Fees
No subscription fee, donor tipping, or price per user

Platform fee of 3%

Standard payment processing fee of 2.2%+$0.30 per donation

Donors can opt to cover the platform fee so that their entire donation goes to the charity



Getting started: three simple steps to build your next fundraiser
Creating a fundraising campaign on GoFundMe Charity is a simple and seamless process. Don't worry if your staff doesn't have a background in website design, as all the options are laid out clearly for you. Below is a basic overview of the steps for creating your nonprofit's first fundraiser:

1. Claim your charity
Any nonprofit looking to raise funds on GoFundMe Charity will first need to set up an account and claim their given charity. The GoFundMe Charity support team will verify your connection to the charity within one business day. Once verified, your charity will be able to start a fundraising campaign and set up withdrawals for future donations.
Once a charity has been claimed, any individual can start a campaign and raise funds for that nonprofit on their own. All funds raised on individual campaigns will be sent directly to the nonprofit selected when the campaign is started.

2. Build your fundraising campaign
Now, for the fun part. Creating your campaign on GoFundMe Charity is a truly customizable experience. The creation process is very simple, with drag and drop options for images and fill-in-the-blank boxes for text. You can even embed your nonprofit logo and match the colors of your fundraiser to your nonprofit branding exactly by adding your hex color code to the design of your campaign.
You also have the ability to customize settings that affect how donors are able to interact with your fundraiser. For example, if you want to enable fundraising minimums or prevent participants from creating new fundraisers on behalf of your charity, you have the option to toggle those settings on or off.

3. Share with your network
Perhaps the most important part of your fundraising experience is the sharing process, and GoFundMe Charity has made that aspect simple. Supporters can share your fundraiser on social media through sharing buttons that will be embedded on your campaign page. You can also allow individuals to start new peer-to-peer fundraisers to benefit your nonprofit by simply adding a button to your charity fundraiser.

What is peer-to-peer fundraising, exactly? This is the option of allowing individuals to create an entirely new fundraiser on behalf of your organization. By allowing the individual to tell their story as it relates to your nonprofit, individually created peer-to-peer fundraisers have the ability to help your nonprofit reach a much broader network of people.
What features are offered?
If you're already using fundraising software, consider if making the switch to GoFundMe Charity makes sense for your nonprofit. To aid your decision making process, we've put together a list of four main features your nonprofit may be interested in.
The Donate Button
When you claim and verify your nonprofit through GoFundMe Charity, you'll have the option to use and share a Donate Button that's specific to your nonprofit. The Donate Button can be embedded on any third-party website—you can add it to your nonprofit's website and start bringing in donations right away.
Additionally, individuals around the world can raise money for your nonprofit by adding your Donate Button on their personal websites or blogs. Additionally, if you need to provide specific donor receipts or want to provide a recurring donation option, the Donate Button is fully customizable to fit your needs.

Advanced Data Reporting
Within the GoFundMe Charity Report Center, nonprofits have the option to create custom queries and pull reports that are specific to their nonprofit and donor base. Nonprofits will be able to pull reports from data collected on individually created fundraisers as well. GoFundMe Charity also has the ability to integrate with CRM tools that your nonprofit may already be using, such as Salesforce and Mailchimp, among others.
Registration and ticketing for events
Planning an event has never been simpler. With the option to create unlimited ticket types, waivers, and promo codes, you can plan the perfect event for your nonprofit. GoFundMe Charity provides tools to accomplish both the registration and ticketing components of any event, regardless of size.
Safe and secure data collection
Safety and security are a top priority for GoFundMe Charity. Your data will never be shared, sold, or accessed by unauthorized users.

Start planning your next fundraising campaign
Prices for subscription-based nonprofit fundraising software can vary widely. As you gear up for your next fundraising campaign, be sure to compare different fundraising platforms to determine which platform fits the specific needs of your nonprofit. With GoFundMe Charity, you can get enterprise-grade fundraising software without paying a fortune. Making the switch to a new fundraising software could allow you to put more money towards your cause than ever before.
Kaley Aposporos is a Content Writer at GoFundMe
"My passion is creating content that will ultimately make the world a better and more connected place. I'm driven to live a life full of stories worth sharing and hope to make an impact by staying curious and present."