Nonprofit Fundraising Guide & Event Ideas
Are you a nonprofit looking for charity event ideas? Great! We're here to help you put the "fun" in "fundraising."
Actually, that saying has been done more times than we can count… How about we put the "sing" in "fundraising for nonprofits?" Do Re Mi Fa So-many-funds-raised La Ti Do! 
Much better.
We know how busy charitable organizations can get. Finding the time to come up with charity events can be harder than hitting a high note. That's why we've got you covered—check out these fundraiser suggestions you'll want to sing about from the rooftops.
What is Nonprofit Fundraising?
The simplest way to describe nonprofit fundraising is to explain what nonprofit organizations do: they work to improve the world without looking to turn a profit. Because nonprofits often aren't actively making money, they need other sources of income—cue the charity fundraising. 
In short, nonprofit fundraising is the collection of money by a charitable organization, with the goal of spending that money to further their cause.
So how do nonprofits raise money? We're glad you asked. Here are five ways to raise money for charity.
5 Fundraising Ideas for Your Charity Event
A quick note: If you're hosting in-person events, be sure to follow all applicable COVID-19 precautions as directed by the CDC to create a safe, inclusive environment. 
Now, without further ado, let's talk fundraising ideas for nonprofits.
#1 Concert
We told you we were going to sing about fundraising! 
Luckily, musicians are everywhere, and many will jump at the chance to support a good cause. You don't need to throw a Warp Tour-sized bash to raise a good chunk of cash, either. Putting together a small show in a local venue or a community hall takes a bit of planning, but with the band(s) advertising the show alongside the charity, you can draw a sizable crowd.
Try using Facebook to find and message local acts. You could even set up a Battle of the Bands event—after all, more performers means more ticket sales. 
#2 Charity Walk & Run
Bringing the community together? Check. Promoting health and fitness? Check. 
Raising awareness with a parade of people weaving through the neighborhood? You know it.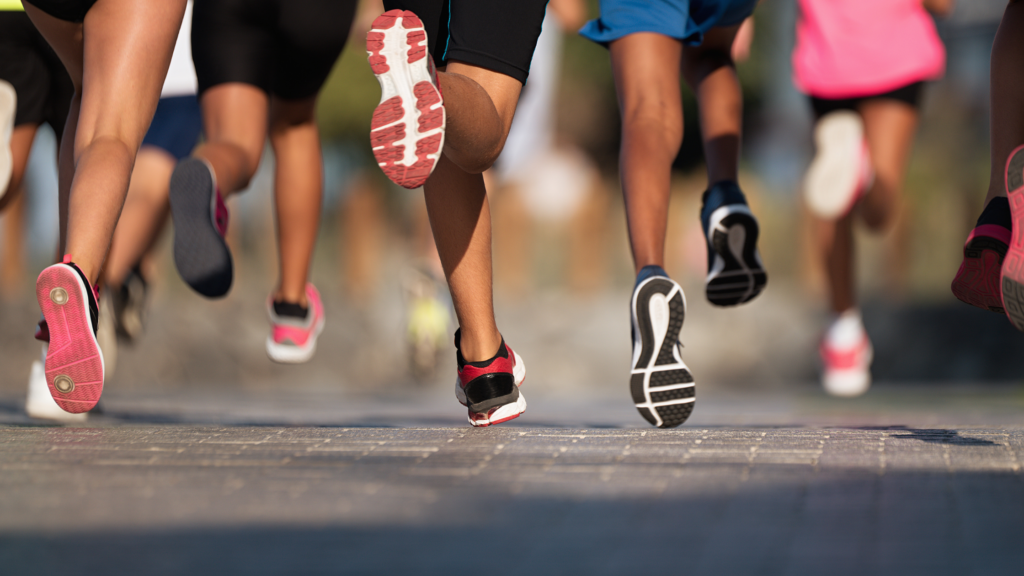 Organizing a charity walk, run, or bike race ticks all the right boxes. There are a few different ways to raise money with an event like this:
Charge a registration fee

Have participants look for sponsors

Combine the event with other opportunities (e.g., a concession)
The best part about a walk or run is the low overhead cost. We recommend offering a few different race lengths so racers of all ages and abilities (even the little ones) can join in the fun.
#3 Trivia Night
Let's face it: we're all a little competitive. Who doesn't love a good trivia night? Food, drinks, friends, and the opportunity to show off all that random knowledge you've stored away.
Putting on a trivia night is straightforward and affordable. Approach a local pub or restaurant with the idea—they may even offer a discount on food. Next, start selling tickets! You could also put on a virtual trivia night or even do a hybrid event, with in-person and online teams competing.
The bar environment is perfect for other fundraisers, too; you could run a pool or darts tournament, a coin toss, or even have karaoke!
#4 Silent Auction
A silent auction works like this: items are displayed next to a sheet of paper, and guests wander around the room, writing their bid on the page. Each bid must be higher than the last. At the end of the night, the person with the highest offer takes home the prize!
If you're running a silent auction, see if local businesses will donate products or services. It can be much easier to convince a company to donate items instead of money—for example, a shirt that sells for $30 may have only cost the store $7 to donate to the auction.
Silent auctions pair beautifully with other charity events, and you don't even need to practice your fast-talking auctioneer impression.
(But you can if you want to!)
#5 Garage Sale
We can probably all admit to hanging on to things we don't need. A neighborhood garage sale helps everyone: homeowners can declutter, and nonprofits pocket the money.
These are some items you could accept to sell:
Used furniture

Pots, pans, and other cookware

Old electronics

Books

Vinyl records

Sport equipment

Tools
Whether you opt for a front yard garage sale or gather everyone in a community center, you'd be surprised to see how many people jump at the chance to part with their old stuff—especially in the name of charity.
Develop a Fundraising Strategy
Now that you've set up your next amazing event, make it a success! Then make the next one a bigger success. Developing a long-term strategy for your nonprofit is the difference between hitting a sour note and bringing down the house.
We're not just charity event experts here at Puzzle Pieces. We're strategists dedicated to sharing your story with the world. Give us a shout today—we'd love to meet you.
Sources: 
Nonprofit Quarterly. What is Fundraising? https://nonprofitquarterly.org/what-is-fundraising-definition/ 
CDC. Considerations for Events and Gatherings. https://www.cdc.gov/coronavirus/2019-ncov/community/large-events/considerations-for-events-gatherings.html