SAN DIEGO, CA – June 4, 2018 – Puzzle Pieces Marketing is proud to announce that our new client, Fitness is My Sickness (FIMS), is under new ownership for the Gym here in San Diego. As of Friday, June 1, 2018 the gym has switched to the ownership of Monique Allen to help expand the gym into new markets that will be more inclusive to the local community.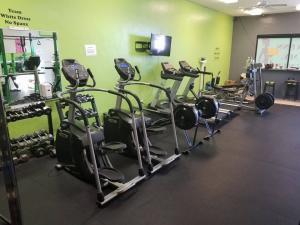 Fitness is My Sickness will now be offering and promoting classes for the deaf and hearing impaired and additional underserved populations in San Diego. There will be absolutely no changes to how the gym is run; this is just an opportunity to gain a variety of classes and community involvement.
We're excited that Fitness is My Sickness has decided to partner with Puzzle Pieces Marketing to help them achieve their Marketing and Public Relations goals," said Angel Mason Broadus, President of Puzzle Pieces Marketing. "We look forward to using our expertise in creating awareness in new markets by developing cost-effective marketing strategies and watching the FIMS campaign unfold into these new markets they're targeting."
New owner, Monique, is excited to get the ball rolling on this great improvement. She says, "We want to create a bridge between our existing audience and also make our gym a place the deaf and hearing impaired and differently-abled members can also call home."
FIMS is the same gym, just with a new mission. Puzzle Pieces is excited to help them grow into a new brand that will help better serve the impaired and differently-abled in the San Diego community. Visit their website at https://fimswomen.com/ for more information about their gym.
About Puzzle Pieces Marketing
Puzzle Pieces is a San Diego-based marketing and public relations firm offering comprehensive services in the areas of Strategic Planning, Digital Marketing, and Creative Design.
Focusing on social good and providing services that benefit our community as a whole, we work primarily with nonprofits and small businesses to develop strategies that inspire action. Our purpose is to develop marketing and PR campaigns that support organizations in increasing their supporter base, improving their overall brand footprint, and collaborate with them to develop, launch and sustain profitable campaigns.
It is our mission to find what is unique and different about an organization's brand and use their talents to help them benefit from that uniqueness.
To learn more, visit PuzzlePiecesMarketing.com or contact them at (858) 848-6584. You can also find them on Facebook, Instagram, LinkedIn, and Twitter.
SaveSave