2016 Vista Strawberry Festival
VISTA, CA, May 4, 2016 – In collaboration with Twin Oaks Gallery Art and Frame, the Vista Chamber of Commerce is welcoming back the Chalk Alive Extravaganza to the 6th Annual Vista Strawberry Festival.
Chalk Alive is a free event featuring street paintings created with colorful soft pastels. This year only 8 professional street painters will be accepted. Professional artists accepted to participate will be provided with the following:
Continental Breakfast, Lunch, Beverages and Sunscreen for Saturday, May 28 and Sunday, May 29, 2016
Chalk and $25 Gas Stipend (for all artists)
Cash Prize for "Best of Show" ($300/$150/$100 for 1st/2nd/3rd as determined by Judges)
Prize Basket for "People's Choice" Winner (as determined by attendees)
"I'm pleased to have the opportunity to participate in the event again this year. It's difficult to say which is more exciting, the anticipation of what our talented artists will create, or the delight at the conclusion of the festival as attendees walk around the Chalk Alive exhibit to view the finished pieces," said Tonya Lenz, owner of Twin Oaks Gallery Art & Frame.
Transform the Sidewalks of Downtown Vista into Colorful Works of Art
Along with professional chalk artists, this year, The Vista Chamber of Commerce is inviting amateur artists, local community groups as well as families and individuals to participate in the festivities and help transform the sidewalks of downtown Vista into colorful works of art.
The group category is open to all ages including middle and high school art programs and groups. Amateur artists aren't required to submit a website link with their applications.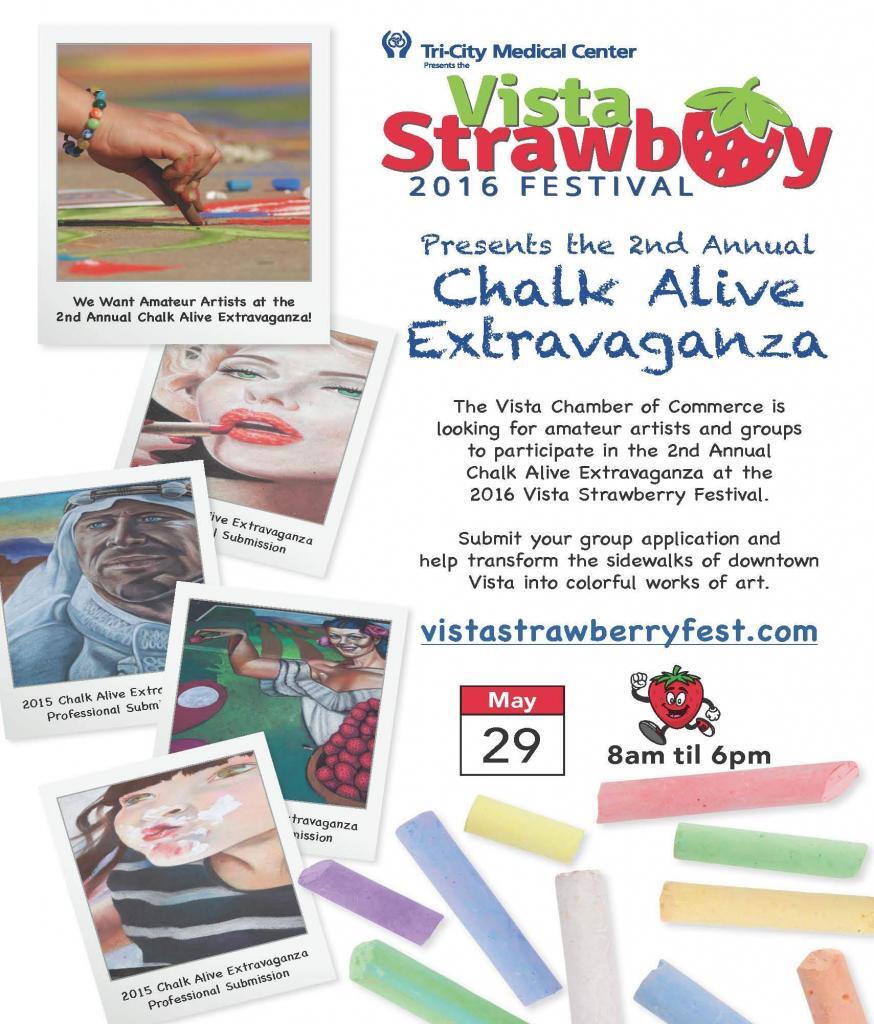 With an anticipated attendance of more than 100,000 people, the Vista Strawberry Festival – Chalk Alive Extravaganza is a great platform for professional artists to gain exposure and showcase their street paintings. "Our last Chalk Alive was so well received by local media and attendees that we decided to bring it back in 2016. By opening participation up to the community, we are eager to make the event a true collaboration in the arts," said Bret Schanzenbach, CEO of the Vista Chamber of Commerce.
Professional artists can submit applications to participate in this event. To download the application and apply visit https://www.vistastrawberryfest.com/strawberry-festival-contests/chalk-alive
For more information, contact the Vista Chamber of Commerce at ceo@vistachamber.org. Don't miss this opportunity to have your talents showcased.