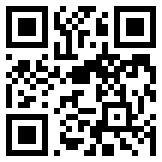 A recent trend among small businesses is the growing use of QR Codes.  QR Codes are similar in one sense to bar codes, in that they contain information which can be read by a QR code reader. QR Codes can be scanned and read by camera-equipped smartphone when you've downloaded a scanner app, such as i-nigma for the iPhone.  What this means is that the average person can now de-code (read) a QR Code without special equipment.  You could walk into a place of business, see a QR Code on an item, scan it with your smartphone and immediately have access to a lot of information electronically.
QR Codes have been around for years. But in the last 12 months their usage has been skyrocketing among entrepreneurs as mobile usage has grown. QR Codes are well suited for marketing purposes among other uses. For example, now it is becoming more common to receive business cards with QR Codes on them.  That way, you get access to a lot more information than can fit on a small card. For instance, you might hand out a business card with a QR Code at an event that leads guests at that event to a website with a special promotion just for attendees. Or the QR Cose on a business card might contain a V Card (digital business card) that you can save without having to manually input the card information. Or you may give out schwag with a QR Code on it for anyone to learn more information about your company.  Consider putting QR Codes on:
Business Cards
Email Signatures
Social Media Pages
Banners
Bottled Water Label
Hats
T Shirts
Key Chains
Stickers
Temporary Tattoos
Name Badges
Desktop Displays
Yard Signs
Bracelets/Earrings
Mugs
Coasters
Deck of Cards
Shot Glasses
Flip – Flops

People will appreciate the fun of scanning the QR Code, they'll be impressed with the information that comes up so conveniently on their phone. They will remember your business before they will the company without one, and they certainly love that they have less printed material to lug around with them.  Call Puzzle Pieces Marketing for help with getting QR Codes on your materials today!