In the spirit of the season, it is all about giving rather than receiving. There is no better way to give during the holidays than that of the volunteering of your time. If you have a little room in your schedule and are searching for ways to help your community, see the list below for volunteer opportunities in San Diego!
On December 10th, the 10th annual Gaslamp Holiday Pet Parade will be taking place. The parade, in addition to a costume contest and pet expo, needs volunteers to walk the parade route with banners that signal each section. If you love animals and are ready to start your holiday season by volunteering your time, this is the opportunity for you.
2.  Campus Cleanup for Canine Companions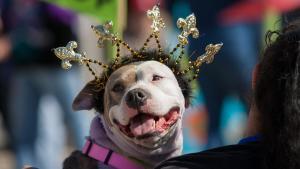 Canine Companions for Independence, which is a non-profit that provides trained services dogs to those with disabilities is searching for volunteers to help clean their facilities in Oceanside. This 2-hour event will allow them to provide a clean facility for their animals. There are 3 dates for this event, and they can be found by following the link above.
3. Holiday Gift Pick-up for Embrace-a-Family
Embrace-a-Family, an organization which provides holiday gifts to low-income families is searching for volunteers to assist their case managers by picking up the various gifts for individual families. They are needing volunteers on December 12-15, and this is a great way to help a great cause this holiday season.
Get into the spirit by helping Saddleback at Irvine North set up for a month of celebration. They are having a decorating day at Northwood High School on December 16, and they need volunteers to make their event space look its best. Visit the link above for more details.
5. Teach an adult to read at the City Heights Library
If you are looking for a longer term volunteer opportunity, this 6-month one-on-one tutoring program is a great way to serve the community. This program serves low-literate, English speaking adults who are looking to advance their knowledge of reading.
Whether you decide to volunteer at the pet parade, picking up gifts, or teaching someone to read, there is nothing better than volunteering at this time of year. Giving back is great during every season, but by starting in December you can be sure that 2018 will be your year to volunteer!