Social listening can give businesses ideas to improve their products and services and uncover what is being said about a brand, who is saying it, and on which platforms. Companies have long tried to build strong customer relationships through well developed marketing programs. Key components of social listening are to develop a better way of engaging customers, responding, and delivering marketing messages.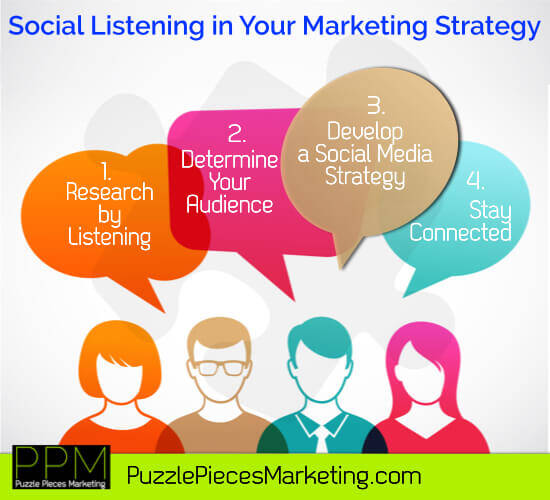 Research by Listening
Researching and listening to the content shared related to your business or industry is key when it comes to a solid marketing strategy. You need to know how people, and, of course, your competitors are using each social media platform. Find out which platforms are right for you. It's a possibility that you won't need to use every single one. You definitely want to know what people are talking about, the types of images and videos being shared, and how people talk about your industry. Won't hurt to make a list of the most popular accounts in your industry to determine how they are captivating their audience.
Determine Target Audience
Based on your research and business objectives, decide what audience you want to target. It is not just who is interested in your product or service. Your audience can be anyone associated with your target audience. Let's face it, that's the mere definition of social media: it's  online word of mouth. Therefore, your existing customer base, peers, and community influencers are all connected to your target audience too.
Develop a Social Media Marketing Strategy
What do you want to achieve with social media marketing? Specifics along with how it links back to your business and marketing goals. There are many different reasons why a business uses social media.
Generating a general awareness of your brand/business/product
Managing your business' online reputation
Delivering quality customer service
SEO for website traffic, more views on website, etc
Keeping customer engaged
Call to action, spurring into action, campaign, fundraising
Stay Connected
Be a human. People want to be talked to, never at! This is your chance to not just talk, but LISTEN! Interaction and engagement is a MUST! People want to feel heard and empathy is always a plus. The more helpful information or tips you can provide, the better. Your audience wants intriguing and interesting content they feel compelled to share or like. Responding directly with a mention, liking, or sharing are the easiest and quickest ways to connect. Also, blogging or guest blogging on relevant content for your target audience is beneficial as well.
In the end, the business that listens and implements a social media marketing strategy that connects with their target audience by being more personal will be ahead of the others. Creating great content is only one part of all the parts in social media. You need help making sure your businesses message is reaching your target audience, let us know.