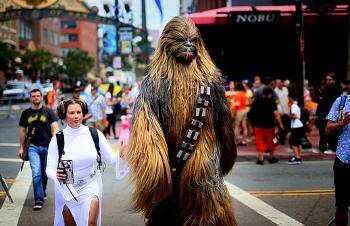 July is here! What does that mean? We are glad you asked! It means that Comic Con 2017 is coming up very soon and everyone at Puzzle Pieces is excited!
Did you know that as big as it is, Comic Con is a non-profit organization? Who would have thought? As a matter of fact, it is one of the largest events of its kind! People come from all over the world to witness the celebration and to learn more about comics and other science fiction art forms.
A lot of you are probably wondering, how can an event as big and popular as Comic Con be a non-profit organization? To be considered as a non-profit organization, according to Investopedia, "you must further religious, scientific, charitable, educational, literary, public safety, or cruelty prevention causes or promotions." Comic Con San Diego does abide by these rules and it says so in their mission statement: "Comic Con International: San Diego is a non-profit educational corporation dedicated to creating awareness of, and an appreciation for, comics and related popular artforms, primarily through the presentation of conventions and events that celebrate the historic and ongoing contribution of comics to art and culture."
Comic Con takes up a lot of the Gaslamp Quarter, all of the San Diego Convention Center and mostly everything in between from all the people walking back and forth. If you have never been to it and wondering what it's like, it is like a day at Disneyland; filled with a lot of people in interesting costumes.
So how did Comic Con get this popular and how is this non-profit so successful? It all started in 1970 at the San Diego Grant Hotel where there were only 145 attendees. They gained popularity by networking with other fandoms and progressed to be this huge event that we all know and love today. They have gained a lot of money over the years and it has grown so big that Comic Con does not rely on public donations as much as a non-profit should. Being that it is the most popular event in San Diego, it gets enough money from ticket sales, merchandise sales, and much more with it. According to Jeff McDonald from the San Diego Union-Tribune, "organizers say the money they collect supports an awareness campaign that extends beyond the exhibit halls. They say the event is more than a promotions bonanza for comics, computer games, and Hollywood talent." This means that they use the money to put on other events that have become popular as well: Wondercon, Toucan, and Comic Con HQ.
As a company that proudly does business with non-profits, Puzzle Pieces Marketing is honored to live in a city where a non-profit organization is so successful and loved by people around the world. We hope that you get to attend this wonderful event and contribute to the organization. If you want more information about this exciting event, click here! Non-profits make this world a better place, and we are ready to get our comic on!