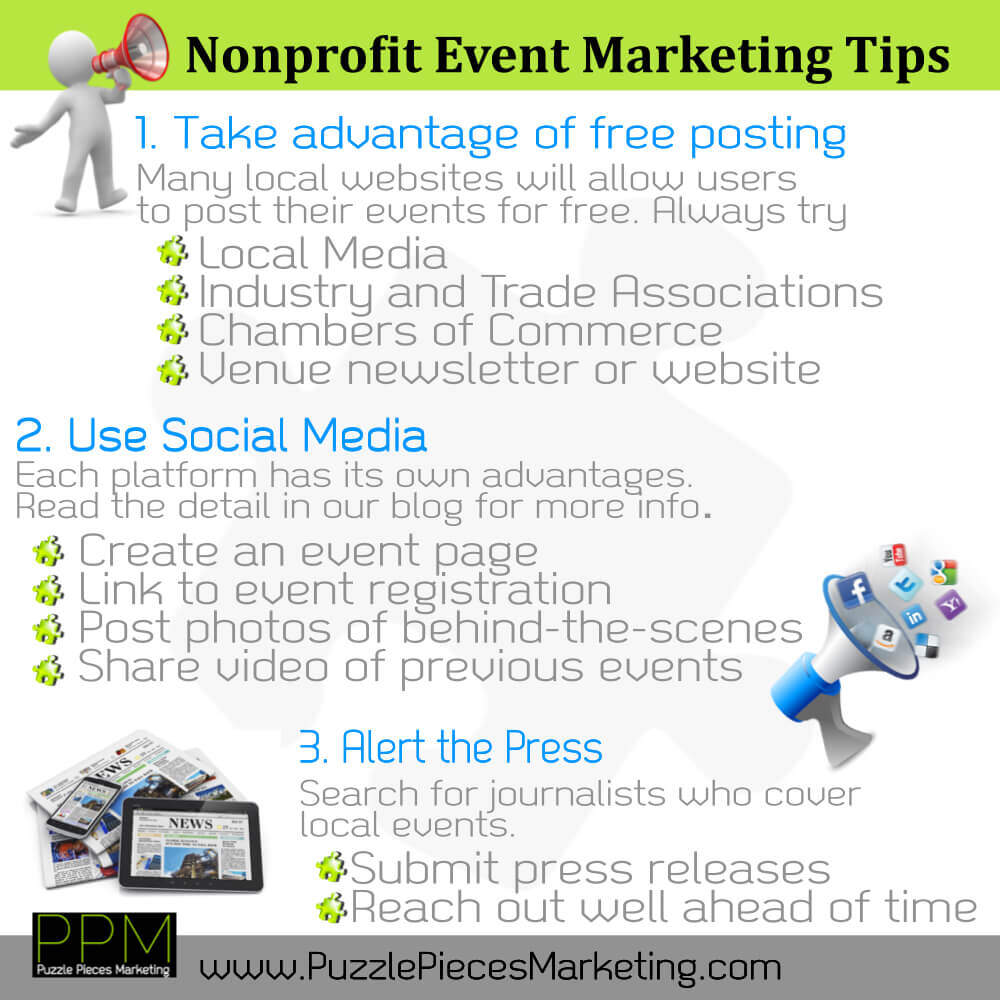 Every little bit helps when getting your events in the public eye and it never hurts to ask for support. As a nonprofit organization, many groups will be willing to provide assistance with promoting your event. Of course, this doesn't mean that your organization shouldn't invest in developing a comprehensive marketing strategy; however, by following these best practices you can help get your nonprofit event publicity without a huge price tag.
Take advantage of free postings
Many local media sites allow users to post events.  You can easily find these by searching Google for "event calendars" in your city.
If the event is relevant to their audience, industry and trade associations may also allow users to submit events to their website.
Chambers of commerce are often happy to promote events relevant to their members, especially if the organizers are members themselves.
Does the event venue distribute a newsletter? If so, ask them to include your event in the newsletter or on their website. Also, ask if they have a place where you can leave a sign or promotional flyers. 
Use social media
Each platform has its advantages when it comes to publicity
Facebook – create an event page, and then post regular updates. Get potential guests excited in the days and weeks leading up to your event
Twitter – post frequent tweets about your event. Link to the event registration page, and any other relevant site content. Spread your event hashtag and use related hashtags.
Instagram – give followers behind-the-scenes and sneak peeks at event prep. Post photos during the event to get people excited about what's going on and encourage them to share photos as well.
YouTube – share clips of previous events or preparations for what to expect from this year's event.
Periscope – share live streaming during the event to show what's making this year's event different and the best one yet!
Google Plus – post frequent updates about your event in relevant community pages. Link to the event registration page, and any other relevant site content.
Live posts during events are a huge opportunity for event promotion. Registrants and potential attendees will be watching the hashtag. Fill that stream with interesting content to help attract even more attendees during the event. In addition, tell followers how their attendance will make a difference. They're not just buying a ticket; they're making an impact on a cause and changing lives.
Submit to Media and let the press know
Look for your journalists who cover local events. You can find them by searching the website of your local news publications or by searching for similar events in news websites.
Some news organizations only write previews, not reviews after the fact so make certain you reach out well ahead of event time.
Distribute a press release to get in touch with a reporter and make sure you include all the important event details: who, what, where, when, and why.
You don't always need a big advertising budget to promote and get publicity for your nonprofit event. Contact us today to learn more about our services and to see how we can help you save precious dollars when it comes to event publicity.