When people think of healthy food, most likely they think of boring fruits and vegetables. The word "diet" might even come to mind. However, eating healthy doesn't always have to be boring!! Here are a few fun healthy food trends worth trying that actually taste good:
Acai Bowls
Acai bowls have become a massive trend within the past year for many reasons.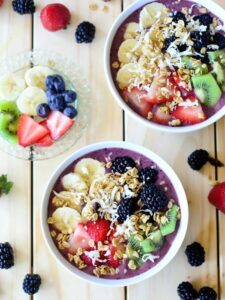 Not only are acai bowls tasty but they have many health benefits! Acai berries are low in sugar and contain excellent amounts of iron, calcium, fiber, antioxidants, and vitamin A! Acai berries originally come from central and South America. With their vibrant purple-blue color, you'll know an acai bowl when you see one. Top it off with fruit, granola, some honey, and you're good to go!
Overnight Oats
Let's face it, who has time to make a balanced, healthy meal every morning while running out the door? No one! Well, now there's a new solution for your breakfast problems.
Let me introduce you to overnight oats. Overnight oats are a quick and easy way to eat a healthy breakfast while not wasting time in the mornings. Oats have an excellent source of protein, fiber, vitamins, and minerals. Prepare your oats before you go to bed, let them set in the fridge overnight, and you'll have a yummy breakfast waiting for you in the morning.
Chia seeds
What is a chia seed? Chia seeds are tiny black or brown seeds local to Central and Southern Mexico.
They contain omega-3 fats, protein, vitamins, minerals, are high in antioxidants, and are rich in fiber. Incorporating chia seeds into your diet is very easy and simple to do. Sprinkle it on top of your toast, in your cereal, in salads, or make chia seed pudding! The options are endless. Check out these chia seed recipes to spice up your healthy eating habits: https://draxe.com/chia-seed-recipes/
SaveSave
SaveSave
SaveSave