As you may have already heard or read in our previous blog, Facebook introduced some exciting new changes yesterday. Facebook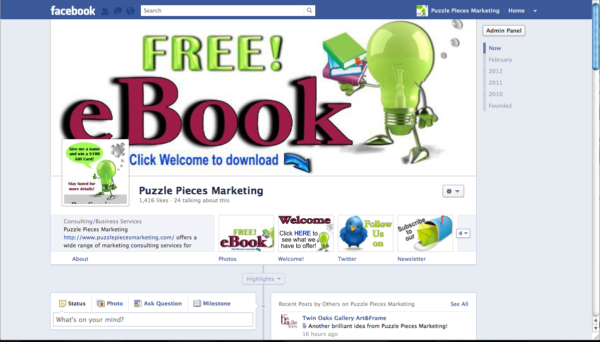 rolled out the "preview" of their Timeline format to Facebook business pages.
The change is scheduled to occur on all fan pages on March 30. These changes offer even more flexibility to market your business on Facebook and we have already started playing with the new layout so that we can provide you with information that help you make the most of your new Timeline page. We will continue to makes changes as we better understand and are able to integrate the new features, however, you can view our updated page by clicking here.
How Does Timeline for Facebook Pages Impact your custom designed tabs?
Your Custom Tabs Will Continue Working – Don't worry your custom tabs designed by Puzzle Pieces Marketing will continue to function.
Fan Gates Still Work – Pages created with Like Gates will also continue to function and help you turn visitors into fans.
Default Tabs – Facebook has removed the ability to set the default landing tab when visitors hit your fan page. The Facebook Timeline will now be the default view for your fan page. However, there will be large icons linking to your custom tabs at the top of your time line, giving them more visibility. You can also rearrange the icons to highlight those that are most important as well as create a custom tab image.
Wider Tabs – The Timeline introduction has resulted in an increase in the available space for custom tabs, from 520px to 810px.
New Timeline Features Engage Your Fans:
Cover Photo – In addition to wider tabs, business pages will have a "cover image" to showcase your brand.
Pin Posts – You will be able to "pin" or anchor your most important posts at the top of your time line for up to seven days. We have already experimenting with this feature to help us better understand how to drive traffic to your custom tabs.
Private Messaging – Engage your fans in a new way by receiving and responding to private messages.
When Will These Changes Impact my Fan Page?
Preview Timeline – You can preview the changes, and set up your cover image by click the "preview button" at the top of your Facebook page.
March 30 Timeline Rollout – Facebook will automatically convert your Fan Page to the new Timeline format on March 30.
Please contact us today if you are interested in obtaining additional information about our custom designed Facebook Fan Pages.